Paavo Nurmi – the Flying Finn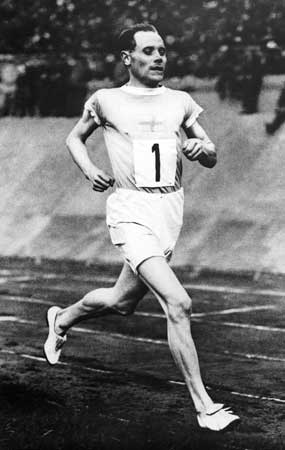 The NURMI Study – Nutrition and Running high Mileage is named in honour of Paavo Nurmi, probably the most successful and most important runner and probably the greatest athlete of all time.
Vegetarian and legend in his own lifetime
The taciturn long-distance runner was one of the greatest athletes there has ever been. The name Paavo Nurmi is right at the top of the list of the best long-distance runners of all time. He is often spoken about in the same breath as the Czech Emil Zatopek and the Ethiopian Haile Gebrselassie. However for many people the Finn is the only number 1. Nobody has broken more world records than he did and nobody has had so many Olympic victories.
Paavo Nurmi brought the Finnish domination of distance events to its heyday and was second to none in putting his stamp on the sport in the 1920s. Paavo Nurmi and many other top Finnish athletes were in the forefront of distance running in the 1920s and thus created the myth of the Flying Finns. His achievements made him a national symbol: not for nothing was the Finn reckoned to be the running legend of the 20th century.
In the pre-war years the expression "He runs like Nurmi!" really took off, underlining the exceptional prowess of the Finnish running legend, although Paavo Nurmi was totally unsuitable as a yardstick for others.
It is impossible to describe Nurmi's achievements and merits without using superlatives:
24 world records (from the 1,500 m up to 19,210 m in an hour)
4 years without being defeated
9 Olympic gold medals and 3 silver:
Antwerp 1920: 3 gold (10,000 m, individual & team cross-country) & 1 silver (5,000 m)
Paris 1924: 5 gold (1,500 m, 5,000 m, individual & team cross-country, 3,000 m team)
Amsterdam 1928: 1 gold (10,000 m) & 2 silver (5,000 m, 3,000 m steeplechase)
The Finnish middle- and long-distance runner Paavo Nurmi (*13 June 1897 – †2 October 1973) was from a modest background and even as a child had to help to maintain the poverty-stricken family. He earned his first money from his extraordinary talent as an errand boy for a bakery.
At the age of just 11 his talent was recognised when he ran 1,500 m in 5:02 minutes. The 12-year-old's tiring job left him little time for running. However he trained in endurance and speed in the Finnish woods.
At the age of 15 Paavo Nurmi was inspired by Hannes Kolehmainen's victories at the 1912 Olympic Games in Stockholm (3 gold medals). Soon afterwards Paavo Nurmi got his first running shoes.
When he began his military service in 1919 he was one of the first long-distance runners, began to train systematically and hard and was one of the first to practise interval training.
Nurmi's typical training style was running with a stop-watch in his hand. He placed great value on an elegant running style and took care to pace himself. Nurmi trained three times a day and always ran his circuits with a stop-watch in order to check his time, even while competing.
Antwerp 1920: First Olympic gold medal
In the Summer of 1920 Paavo Nurmi achieved his first Finnish record (3,000 m in 8:36.2 min.) and became Finnish champion in three events (1,500 m, 5,000 m, cross-country).
Nurmi made his great breakthrough at the age of 23 at the 1920 Olympic Games in Antwerp (3 gold, 1 silver). That was the beginning of his rise to being the best runner the world had ever seen. Paavo Nurmi became the idol of the still young nation of Finland.
First word record 1921
Paavo Nurmi set the first in his unique series of world records in Stockholm on 22 June 1921. Nurmi ran the 10,000 m in 30:40.2 minutes, on the way also breaking the unofficial 6-mile record in 29:41.2 minutes.
At the end of 1923 Paavo Nurmi was the only runner to hold the world records for the mile, 5,000 m and 10,000 m at the same time, and he still is today.
Paris 1924: 5 gold medals in 4 days
1924 was a great year for Paavo Nurmi. He was no longer racing against competitors: he was primarily battling against time.
"If you run against the clock you don't need to sprint. The others can't keep up if the pace is fast right up to the finishing line", he once declared.
On 19 June, while practising in Helsinki for the Olympic Games, within only an hour Nurmi broke two world records (1,500 m in 3:52.6 min. and 5,000 m in 14:28.2 min.). On 10 July in Paris he became Olympic champion over both distances.
Paavo Nurmi's extraordinary talent became clear once again in Paris. He won the gold medal for the 10.65-km cross-country 1½ minutes ahead of the silver-medallist, only 15 of the 38 starters finishing in the 45° C heatwave.
USA, 1924/25 Winter season
The incredible achievements of the 26-year-old Finn gained him an invitation to the USA, which became a triumphal procession. Nurmi achieved a new indoor world record over a mile. Within five months Nurmi won 53 of 55 medium- and long-distance races as well as exhibition races.
"A world record every week …", wrote the former editor-in-chief of the magazine Leichtathletik, Heinz Vogel, about Paavo Nurmi in 1972.
Amsterdam 1928
At the age of 31 Finland's greatest sportsman continued his success at the 1928 Olympic Games in Amsterdam, winning gold in the 10,000 m and two silvers.
In addition on 7 October 1928 Paavo Nurmi set a world record by running 19,210 m in an hour, a record that was to stand for 17 years until his compatriot Viljo Heino achieved 19,338 m.
1932 Olympic ban – The dream of marathon gold shattered
In 1932 Paavo Nurmi hoped to win the gold medal for the marathon at the Olympic Games in Los Angeles. However it was alleged that he'd breached his amateur status and was not allowed to enter. Just days before the Olympic Games he was suspended by the IAAF and the International Olympic Committee (IOC) banned him for life. This shattered Nurmi's final dream of a gold in the Olympic marathon, which he reckoned he would have won by five minutes.
Nurmi had long been hero-worshipped by a whole generation, and not only in his native land. In Finland his ban was ignored and so Paavo Nurmi ran his last race on 16 September 1934 and won.
Torch-bearer 1952
After the IOC ban the publicity-shy Finn retreated into private life and began a second career as a successful building contractor and businessman.
Only once did Paavo Nurmi return to the limelight. When he carried the Olympic flame into the stadium in Helsinki in 1952 and lit it, Paavo Nurmi was greeted with a storm of jubilation – a special honour and gratification for the 54-year-old, who was finally being rehabilitated.
Paavo Nurmi died at the age of 76 and was honoured with a state funeral.
But his fame will never die and in 2012 Nurmi was enrolled in the IAAF Hall of Fame.